Armstrong Aluminum Services
Central Florida's Premier Aluminum and Screen Enclosure Specialists.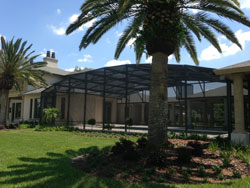 Armstrong Aluminum is a complete screen and enclosure company. We handle every aspect of your enclosure, from design to installation. Armstrong Aluminum offers an array of residential screen services, from minor screen repairs to the construction of palatial-style aluminum screen enclosures.
Armstrong Aluminum aims to assist every customer, and has a solution that fits your budget, lifestyle, personal preferences, and aesthetic. Our customized method approaches each job individually, always providing the high-quality, punctual, and honest workmanship Armstrong Aluminum is known for. Whether a new home, an existing home, or a home that's yet to be built, we have a beautiful, functional enclosure that adds shade and style to your porch.
We service most of the Central Florida region. Click here for our service areas.
Schedule an Appointment
Request a FREE Estimate or Schedule an Appointment Today