Re-Screening and Screen Repair
Call Today for a free estimate…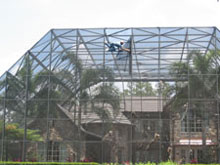 Armstrong Aluminum specializes in the repairing and re-screening of all types of screened enclosures. Whether you need an entire enclosure repaired or just need a few screens replaced, our professional installers will breathe new life into your existing enclosure.
Here are just a few of the many rescreening and repair services that Armstrong Aluminum offers:
Full enclosure re-screening
Individual panel repair
Screen door panel and hardware repair
Beam repair and replacement
Solid enclosure window repair and replacement
We service most of the Central Florida region. Click here for our service areas.
Schedule an Appointment
Request a FREE Estimate or Schedule an Appointment Today