Swimming Pool Screen Enclosures
Outdoor luxury at an affordable price…
A high quality, American made Armstrong Aluminum screen enclosure provides great visibility while protecting your swimming pool environment from flying insects and plant debris. With a variety of screen densities, our screen enclosures can also provide relief from the harsh Central Florida sun when necessary.
Our screened in swimming pool enclosures are perfect for viewing the outside, watching the kids play, or just enjoying the beauty of the outdoors. No matter what your pool enclosure needs are Armstrong Aluminum has pool enclosure solution that fits your budget, lifestyle, personal preferences, and aesthetic.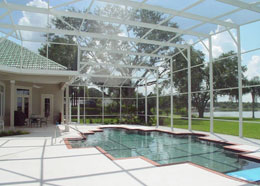 We don't charge extra for quality !  We offer stainless steel door hardware as well as stainless steel fasteners to anchor the pool enclosures to the concrete deck to ensure that chlorine gases from the pool will not rust away the fasteners holding your pool enclosure together. We only use the highest grade aluminum to make your swimming pool's enclosure wind and roof bracing. It looks better and adds strength at a minimal cost. We service most of the Central Florida region. Click here for our service areas.
Schedule an Appointment
Request a FREE Estimate or Schedule an Appointment Today