Custom made screens that "fit" your lifestyle…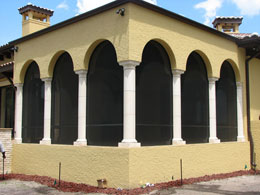 Armstrong Aluminum specializes in designing and installing custom made screen inserts. With our custom screen design service it is now possible to screen archways, columns, architectural finishing and more.
Our custom screen inserts are designed to blend in to the architectural design of your home. We use our sturdy, professional grade screen that comes in many variety of colors and screen densities that can provide relief from the harsh Florida sunlight. No matter what your solid roof enclosure needs are Armstrong Aluminum has a solution that fits your budget, lifestyle, personal preferences, and aesthetic.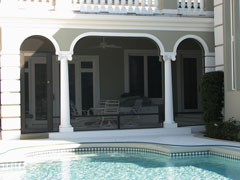 Armstrong Aluminum uses 3-D CAD technology to layout and design every one of our custom made screens. This insures us the tightest fit and highest level of craftsmanship that our customers expect from an Armstrong Aluminum product.
We don't charge extra for quality !  We offer stainless steel door hardware as well as stainless steel fasteners. We only use the highest grade aluminum to make your custom screen. It looks better and adds strength at a minimal cost. Also be sure to check out our Roll-Up Screen services. This exciting feature gives you and your family the option of enjoying a comfortable screened in atmosphere or a wide open, free air environment on those sunny Florida days. We service most of the Central Florida region. Click here for our service areas.
Schedule an Appointment
Request a FREE Estimate or Schedule an Appointment Today